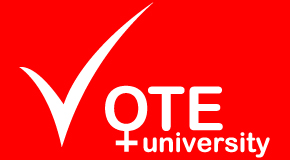 V♀TE University
V♀TE chapters are opening at the universities around the world to educate the future leaders. If you like to open a chapter at your university. We love to hear from you!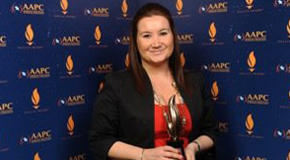 Award
V♀TE WOMEN IN POLITICS's Founder/President Tugba Kalafatoglu accepted the Pollie Award - GOLD 'Oscar of Political Advertising' in Phoenix Arizona March 27th 2010 - for us this award goes to all women in politics around the world!
The First Step to Success is to Believe in Yourself!
As a child, who did you dream of becoming? A scientist who would find the cure for cancer? A teacher who would mold young lives? A fireman who would rescue people from burning buildings? I dreamed of becoming a politician who would build a better future for our children.

Growing up, most kids had posters of rock stars on their walls; on the other hand my walls were filled with the photographs of political world leaders that I had cut out of newspapers. Back then, very few of those leaders were women - today this is still the case.

To follow my dream, I studied political science and became involved in politics, working as a campaign manager, a grassroots director, a fundraiser and a lobbyist. After gaining much experience, I returned to my native country of Turkey. I was selected by a political party to run as a vice president. At the age of 29, I was the youngest person ever elected for this position in the history of Turkish politics.

I have met many women around the world asked me about the information how to run for office. Then I decided to start this organization to help out to the women to run for political office in the world.

This is my dream to see more women involved in politics. I believe that together we can make a difference in the world! Please always remember you can achieve anything you want! Just believein yourself, I do believe in you.

Tuğba Kalafatoğlu
Founder/President